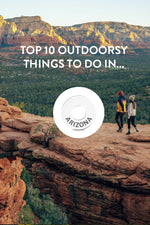 Top 10 Outdoorsy Things to do in Arizona
Today we're sharing a blog post from one of our favourite travel couples, Ryan and Katy of Smilkos Lens. These two and their pooch are on a mission to visit every US State and National Park while providing highlights and everything you need to know to make the most of your trip. 
Arizona is a state that boasts an abundance of natural beauty and breathtaking landscapes. This makes it the perfect destination for outdoor enthusiasts. From exploring the Grand Canyon to hiking through towering red rock formations, there is no shortage of adventure to be had in Arizona's great outdoors. In this blog post, we'll be sharing some of the best outdoor things to do in Arizona. Whether you're a seasoned hiker or just looking for a fun day trip. So pack your sunscreen and get ready to explore the natural wonders of the Grand Canyon State.
ABOUT THE STATE OF ARIZONA
Watson Lake – Prescott
Located in the southwestern region of the United States, Arizona is known for its diverse landscape, ranging from towering mountains to sprawling deserts. The state is home to world-renowned attractions such as the Grand Canyon, Sedona's red rock formations, and the Sonoran Desert. Arizona is also rich in history. Ancient Native American sites, ghost towns from the mining era, and Wild West towns that attract visitors from all over the world. The state's cities are vibrant and bustling, with Phoenix being the state capital and largest city, followed by Tucson and Mesa. With its year-round warm climate and endless opportunities for outdoor recreation, Arizona is a top destination for travelers seeking adventure, relaxation, and unforgettable experiences.
It may not need to be said again, but just in case, Arizona is home to some of the most incredible and unique landscapes. From petrified wood that is millions of years old, to the longest canyon in the world, to magical red rock formations. So below we are going to summarize what we think are 10 of the best things to do in Arizona. In each section, you will find links to any articles we've written that are specific to that activity or destination. So let's get in to it! 
ARIZONA'S NATIONAL PARKS
Arizona is home to three stunning national parks, each offering its own unique natural wonders and outdoor adventures. The most famous and iconic of these is the Grand Canyon National Park, which features the world-renowned Grand Canyon, a breathtaking geological wonder that attracts millions of visitors each year. Another must-visit park is Petrified Forest National Park, known for its ancient petrified wood and stunning multicolored rock formations. Lastly, there's Saguaro National Park, which boasts over 1.6 million acres of pristine desert landscape and is home to the iconic saguaro cactus. These national parks are not only a paradise for nature lovers, but they also provide opportunities for hiking, camping, wildlife viewing, and stargazing, making them must-visit destinations for anyone planning a trip to Arizona.
GRAND CANYON NATIONAL PARK
Mather Point – Grand Canyon National Park
One of the world's most iconic natural wonders and a true marvel of Mother Nature, is The Grand Canyon National Park in Arizona. Spanning over 277 miles, the Grand Canyon is a breathtaking expanse of layered rock, towering cliffs, and shimmering waterways that attracts millions of visitors each year. From hiking and camping to rafting and helicopter tours, there's no shortage of ways to explore this awe-inspiring destination. 
In our Ultimate Guide to Grand Canyon National Park, we take a deep dive exploring what there is to do, where to stay, and offering tips and tricks for making the most of your visit. So pack your bags, grab your camera, and get ready to discover the wonders of the Grand Canyon.
PETRIFIED FOREST NATIONAL PARK
Long Logs Trail – Petrified Forest National Park
Petrified Forest National Park is a stunning natural wonder located in northeastern Arizona. This unique park is known for its mesmerizing petrified wood, colorful badlands, ancient fossils, and fascinating history. Join us in our Ultimate Guide to Petrified Forest National Park, as we uncover its secrets and share our love for this awe-inspiring destination.
SAGUARO NATIONAL PARK
Signal Hill – Saguaro National Park
Welcome to Saguaro National Park, a wonderland of towering cacti and awe-inspiring landscapes that will leave you breathless. Saguaro is a unique and unforgettable destination that will satisfy any nature lover's craving for adventure, exploration, and discovery. This sprawling desert wilderness covers over 91,000 acres and is home to a diverse array of flora and fauna, including the iconic saguaro cactus, which can grow up to 60 feet tall and can live for over 200 years. So pack your bags, grab your camera, and get ready to explore one of the most stunning natural wonders the United States has to offer, in our Ultimate Guide to Saguaro National Park. 
ANTELOPE CANYON
Lower Antelope Canyon – Page, Arizona
Antelope Canyon is a stunning natural wonder located in northern Arizona. Carved by millions of years of erosion, it is a narrow and winding slot canyon known for its beauty and unique geological formations. The walls of Antelope Canyon show smooth, swirling patterns in shades of red, orange, and yellow, created by the shadows from light filtering through the narrow openings above. The canyon is a popular destination for photography enthusiasts and nature lovers alike, drawing visitors from around the world to marvel at its captivating beauty and surreal atmosphere.
VERMILLION CLIFFS NATIONAL MONUMENT
WHITE POCKET
Jessica Traveler at White Pocket – Vermillion Cliffs National Monument
If you're looking for otherworldly, or unique landscapes, White Pocket is the place for you. White Pocket is a stunning geological formation located in the Vermilion Cliffs National Monument in northern Arizona. This remote and isolated area is known for its unique sandstone formations, which have been eroded by wind and water into striking patterns and shapes, including swirling waves and spiraling cones. The white-colored sandstone contrasts beautifully with the surrounding red rock formations, making for a surreal and otherworldly landscape. The area is a popular destination for hikers and photographers looking to capture the beauty of this natural wonder.
We sadly were unable to make the trek to this location due to the extreme weather and terrain conditions. But our friend Jessica over at My Feet Will Lead Me, has a perfect article breaking down everything you need to know to visit this incredible place! 
THE WAVE
Tim & Sarah from Organized Adventurer at The Wave – Vermillion Cliffs, Arizona
One of the most sought-after experiences and destinations in Arizona, is a place called The Wave. The Wave is a breathtaking sandstone rock formation located in the Coyote Buttes North area of the Vermilion Cliffs National Monument in Arizona. Its distinct, undulating patterns of swirling sandstone create a mesmerizing and otherworldly landscape that has captivated visitors for decades.
The Wave's distinctive features are formed by millennia of wind and water erosion, resulting in a unique and surreal geological formation that is a renowned destination for hikers, photographers, and nature enthusiasts. Due to its delicate nature and limited access, a permit is required to visit The Wave, and our friends Tim and Sarah over at Organized Adventurer, were fortunate enough to not only get permits, but to experience The Wave in a way very few people get to; covered in snow! Make sure to go check out their blog!
MONUMENT VALLEY TRIBAL PARK
Monument Valley Tribal Park is a stunningly beautiful and culturally rich region. It's located on the border of Arizona and Utah. This region is known for its towering sandstone rock formations, which have been carved by the forces of wind and water over thousands of years. Additionally, it is home to the Navajo Nation, a Native American tribe that has lived in the region for centuries and whose history and culture are deeply intertwined with the land. In our Visiting Monument Valley in AZ guide, you'll find all the info and inspiration to make your visit to this magical place an amazing one! 
SEDONA
Sedona Arizona is a hiker's paradise, offering a diverse range of trails that cater to every level of experience and ability. From easy strolls through scenic landscapes to challenging treks up steep inclines, Sedona has it all. With its stunning red rock formations, unique flora and fauna, and awe-inspiring views, hiking in Sedona is an adventure that should be on every nature lover's bucket list. So we've narrowed down our recommendations of the best hikes in Sedona in our Best Hikes in Sedona Arizona guide! 
HAVASUPAI FALLS
Visiting Havasupai waterfalls is a dream come true for nature lovers seeking an oasis in the arid landscape of the Grand Canyon in Arizona. Located within the Havasupai Indian Reservation, this remote and pristine area is known for its striking turquoise-colored waterfalls, which cascade down dramatic red rock cliffs, surrounded by lush greenery. Accessible only by hiking or helicopter, the journey to the Havasupai waterfalls is an adventure in itself, requiring permits and advanced planning. Once there, visitors are rewarded with the awe-inspiring beauty of the waterfalls, including Havasu Falls, Mooney Falls, and Beaver Falls, where they can swim, hike, and soak in the natural pools. It's a unique and unforgettable experience that offers a glimpse into the rich cultural heritage and natural splendor of the Havasupai people's ancestral land.
Our friends Tim and Sarah from Organized Adventurer got to experience first hand, and have an incredible write-up about it, so make sure to go check it out!
GLEN CANYON NATIONAL RECREATION AREA
HORSESHOE BEND
Located near the town of Page in northern Arizona, and inside the Glen Canyon National Recreation Area, is a horseshoe-shaped meander of the Colorado River, called Horseshoe Bend. The viewpoint to Horseshoe Bend in Arizona overlooks a 1,000-foot deep canyon, with the river flowing 1,000 feet below. The stunning view of the emerald-green river snaking through the red sandstone cliffs attracts thousands of visitors each year. In our Visiting Horseshoe Bend in Arizona guide, we cover everything you'd need to know, like when's the best time to visit this wonder of Arizona. 
RUNNERS UP
The list of places to visit, and things to do in Arizona could be never-ending. So while we know we only referenced 10 places here, we also know there are so many more. So here are a few others to add to the list of places to explore.
HARVEST HOSTS
Do you have a RV or a camper? Then Harvest Hosts is easily the best $100 spent. Harvest Host is a network of over 2,500 locations around the U.S., Canada and Mexico that allow you to stay at overnight. The best part? These locations are wineries, breweries, farms, museums and more! Imagine opening the door to your camper or RV to morning views over a vineyard. Or sipping delicious beer at a local brewery. This is the life you could be living. So if you aren't already a member, trust us, click on the banner and sign up! 
TINGGLY EXPERIENCES
Looking to do something more fun, or unique? If you aren't familiar with Tinggly, they are a company based on gifting experiences over stuff. Helicopter tours, sunset cruises, horseback riding, ATV tours, and so so much more. So for that next birthday, or gift-giving holiday, instead of gifting stuff, give the gift of an experience. Memories that will last forever. Click on the banner to check them out, or read our full review of Tinggly HERE.
OTHER THINGS TO CONSIDER
LEAVE NO TRACE & 10 HIKING ESSENTIALS
This park is full of unique landscapes and fragile environments, both for plant life, and animals alike. So it is incredibly important to practice the 7 PRINCIPLES OF LEAVE NO TRACE, and follow the posted signage and guidelines of the park. If you aren't familiar with Leave No Trace, here's a breakdown: 
Plan ahead and prepare
Travel and camp on durable surfaces
Dispose of waste properly
Leave what you find
Minimize campfire impact
Respect wildlife
Be considerate of others
There are additional and more in-depth details of what each of these means on the LNT website, so make sure to take a look at that! 
Similarly, because of how harsh the weather conditions can be, and because there is virtually no cell-phone service anywhere, it is important to hike with the 10 Essentials of Hiking. If you aren't familiar, here's a breakdown: 
NAVIGATION

 

– maps, guides, compass, GPS locator
HEADLAMP

 

– flashlight and extra batteries or charger
SUN PROTECTION

 

– body sunscreen, lip sunscreen, and clothing protection
FIRST AID

 

– including animal and bug repellents
KNIFE

 

– as well as knife repair kit
FIRE

 

– matches, lighter, tinder and striker
SHELTER

 

– tent, cover, or anything to protect and cover you
FOOD

 

– snacks and extra meal
WATER

 

– more than the minimum recommended amount
CLOTHES

 

– enough to handle night-time elements
Interested in knowing what gear we use for all our adventures? Check out our Rock Porch lockers which list all of the gear we use, and where to shop it!
TOP 10 OUTDOORSY THINGS TO DO IN ARIZONA
Let us know what you thought of this, if we missed anything, and if you plan on doing any of these 10 outdoorsy things to do in Arizona at some point! Comment below!
If you aren't following us on Instagram, then check us out there and give us a follow as this will be the best place to follow our journey and adventures!
Thanks for stopping by!
Ryan & Katy