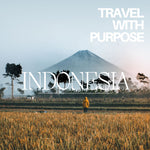 A Guide to Responsible Travel in INDONESIA
The ancient
Prambanan Temple
near Yogyakarta on the island of Java in Indonesia.
When you first think of Indonesia, you probably think of Bali. It's definitely the most popular island in the entire country. However, did you know that Indonesia actually contains over 18,000 islands? 6,000 of which are inhabited by incredible people that speak over 800 different languages. Holy cannoli right?
Welcome to the enchanting archipelago of Indonesia. A place where every sunset will take your breath away and every person you meet will warm your soul. As travellers, we have an incredible opportunity to explore this country's diverse landscapes. But with that privilege comes a great responsibility to honour the land we set foot on and the people that inhabit it.
Responsible travel is all about exploring our beautiful planet while keeping the well-being of local communities, the environment, and the economy in mind. Its main purpose is to maximize the positive impact of tourism while minimizing the negative impacts.
At Traveller Collective, we're very enthusiastic about commemorating the places we've been in a way that's meaningful and eco-friendly. That's why we're thrilled to give you this guide on easy-to-implement ways to travel responsibly in Indonesia.
Go to Bali, for sure, but put these islands on your bucket list too.
The smouldering Mount Bromo Volcano on the island of Java, Indonesia.
The first island on our list outside of Bali is: Java. On this island, you'll be able to experience first-hand the cultural impacts of Dutch colonialism and understand how this country has been able to thrive under its established independence. You can easily wind your way through this island by:
Starting in Jakarta and visiting the historic Taman Fatahillah.

And ending your tour in Surabaya with a visit to the infamous volcano: Mount Bromo.
Once you're finished in Surabaya, a quick flight or a boat ride will take you to any other island your heart desires. Apart from the most common islands of Bali and Java, there are quite a few other islands in this spectacular country you'll want to check out. Keep reading to find out our favourites as well as tips and tricks to make the most out of your trip.
Kalimantan, Borneo
Two Kalimantan orangutans at snack time.
Although this island is divided up between three countries (Brunei, Malaysia, & Indonesia) there are a plethora of opportunities here for responsible travellers.
One incredibly rewarding opportunity here is through Orangutan Oddessy Tours. With a mission to support local non-profits, these tours directly aid in the conservation efforts of orangutans and their habitats. By joining in, you'll be able to make a positive impact on the preservation of these remarkable creatures and have an unforgettable, wild experience at the same time.
Another exceptionally rewarding opportunity on this island is volunteering in Tanjung Puting National Park. Here you can participate in anything from planting trees to teaching the local staff English. The opportunities to actively contribute to conservation and community development efforts here are truly limitless and can only elevate your responsible travel in Indonesia.
Raja Ampat Islands
Looking out toward the Halmahera Sea on one of the many Raja Ampat Islands.
Largely regarded as 'the last paradise on earth' these islands are home to some of the most stunning marine life in the entire world. A fact that makes this destination a must-see for diving enthusiasts.  However, as with any adventure comes the responsibility to do so in a sustainable way.
There are many eco-resorts across these islands that practice sustainable diving and living. They can help educate you on the best ways to dive with minimal impact on the surrounding environment.
However, while you're here, think about also visiting some of the local schools to help out with English lessons and maybe bring a meal to eat with everyone. Just speak with someone at your eco-resort to see if they can set something up for you and let the experience take you from there!
Komodo National Park
A Komodo dragon relaxing by the beach in Komodo National Park.
Komodo Island is located in the East of Indonesia a few islands down from Bali. This island is known far and wide for its ancient inhabitants - the legendary Komodo dragons. This UNESCO world heritage site offers visitors a chance to witness these fascinating creatures in their natural habitat while exploring the island's stunning landscapes and beaches.
When you start planning for a visit to this stunning island, consider booking accommodation at a local homestay. Doing so will directly help this community in need and you'll get the extra bonus of experiencing incredible Indonesian hospitality. You can even book tours of the island through them which makes a visit to the national park so much easier.
Sumatra
An ariel view of Lake Toba on the island of Sumatra.
Sumatra is the sixth-largest island in the world and is home to a treasure trove of natural wonders making it a top destination for responsible travellers in Indonesia. With its rich biodiversity, this island offers numerous opportunities for ethical wildlife encounters. And one of the best ways to see the diverse wildlife in Sumatra is by eco-trekking through lush rainforests with a local guide.
Outside of Sumatra's stunning natural beauty, it also boasts a vibrant culture, delicious cuisine, and warm-hearted locals. One sustainable option to experience this island's culture is by visiting community-based tourism initiatives. Where travellers can immerse themselves in the local culture, participate in traditional activities, and directly support the livelihoods of local communities.
A visit to Indonesia truly isn't complete without a visit to at least one of these islands. However, we know that Bali will also be on your list, so we want to give you some good advice for visiting there too.
When you read the next section, keep in mind that a lot of our advice for Bali can also apply to most other places you visit in Indonesia as well. Enjoy!
Some of our best advice for visiting Bali.
Two Balinese women performing a cultural dance in traditional garments at a temple in Ubud.
Bali is an awe-inspiring place filled with magical adventures around every corner. This island is known far and wide for its breathtaking beaches, vibrant green rice terraces, and unique temples.
It holds a unique blend of traditional and modern styles of life. The majority of locals on the island practice a unique form of Hinduism known only in Indonesia that you will see evidence of every day. A stroll down any street in Bali will leave you yearning to find out more about the local way of life.
Come to this island prepared to learn about one of the most peaceful and natural ways of going about everyday life. And while you're there…
Consider staying at an eco-resort.
These types of accommodations are where responsible travel and the preservation of important ecosystems collide. They play a crucial role in maintaining sustainable tourism by fostering a greater appreciation for the environment.
Two standout destinations that truly embody the essence of sustainability on the island are Bambu Indah in Ubud and Bumi Ayu Bungalows in Sanur.
Bambu Indah is nestled in a stunning set of lush rice fields overlooking the Ayung River. They have unique bamboo structures designed to blend in seamlessly with nature. Here you can reconnect with mother nature by surrounding yourself with the soothing sounds of the quiet jungle landscape.
The Bumi Ayu Bungalows, situated in the heart of Sanur offer a special look into traditional Balinese architecture. From their comfortable bamboo cottages to their organic gardens, every aspect of this resort reflects their dedication to preserving the environment.
Eco-resorts across Indonesia set an example for the hospitality industry in reducing carbon footprints and preserving natural resources. Staying in one of these places not only allows travellers to enjoy a guilt-free vacation but also preserve and empower local communities. Don't pass up this opportunity, trust us.
Visit one of the many cultural villages across the island.
These unique places are living representations of Bali's rich heritage and traditions. They provide visitors with a hands-on opportunity to deepen their understanding of the islands unique:
Art

Music

Food

Dance

Customs

Architecture
One of our favourite cultural villages on the island is Tenganan. It's one of the oldest and most well-preserved cultural villages on the island today. A visit here will transport you back in time giving you a glimpse into the rich traditions and fascinating customs of this incredible community.
Exploring any of the cultural villages in Bali or across Indonesia allows travellers to further their understanding of the island's unique customs and traditions. Visiting these places helps foster cross-cultural appreciation and create memorable connections with the local community. And of course, you'll want to further support the local community by hiring a local guide to drive you from location to location. It's one of the best ways to see cool spots located all over the island.
Support local artisans by shopping at a traditional art market for souvenirs.
When you choose to shop at traditional art markets, you make a conscious decision to support local communities. By purchasing products directly from local artisans, you contribute to their livelihoods and help sustain their skill sets for generations to come. 
When you find yourself in Ubud (and believe us, you will) check out their local art market. Here you'll find an entire street lined with local vendors and cute little cafes perfect for taking a break and recharging with a cold coconut. Honestly, Ubud is a handmade crafting paradise. Practically every street in the main part of town is overflowing with unique handicrafts. You really can't go wrong.
Ethical souvenir shopping goes beyond supporting local economies. It's about making choices that align with your responsible travel values. When you opt for handmade items over mass-produced trinkets, you're promoting sustainability and reducing environmental impact. And you can uphold this practice across Indonesia.
With each item, you get to tell a story. Not just of its creation but also of the culture it represents and the experiences you had. It's more than just a win-win, it's the trifecta of practising responsible travel in Indonesia.
Participate responsibly in sacred celebrations and ceremonies.
Year-round Bali has an abundance of unique cultural celebrations and ceremonies. Participating respectfully in these events help travellers like yourself experience profoundly life-changing traditions.
To ensure respectful participation during these events, it's essential to familiarize yourself with local customs and traditions. Be sure to dress modestly when visiting temples or attending ceremonies. Look around and see what the locals are doing, or not doing, and follow along.
One of the most unique celebrations happening every year, usually in late March, is called Nyepi. Or the Day of Silence in Bali. It's a day that Balinese people give to Mother Earth so they may breathe and rest together.
Imagine an entire island coming to a complete standstill as people observe silence, engage in self-reflection, and disconnect from the outside world. Nyepi is a day of true introspection and renewal which holds a significant place in Balinese culture.
Another significant cultural tradition you can respectfully participate in is the purification ritual at the Tirta Empul Temple. This temple is regarded as one of the five holiest temples in Bali and one of the holiest water sources. A visit to this stunning temple and participation in this ritual will leave you feeling renewed in the body and soul.
The celebrations, festivals, and ceremonies across Indonesia are a colourful reminder of the vibrant and diverse cultural heritage throughout the entire country.  They provide a powerful glimpse into the artistic nature of the Indonesian people. As a responsible traveller, it's truly an honour to be able to participate.
Thanks for reading!
The tropical paradise of Indonesia genuinely offers something for everyone and we've only just touched the surface in this article. From adventure junkies to spiritual seekers, and those just looking for simple relaxation and rejuvenation, you really can't go wrong wherever you choose to land.
To practice responsible travel in Indonesia means leaving only footprints of kindness and respect. By doing so, we are able to make a huge difference in the lives of locals and their environment one step at a time.
For us at Traveller Collective, we are passionate about cleaning up the planet. That's why when we travel anywhere we make sure to:
Use a refillable water bottle.
Carry a reusable shopping bag.
Say no to disposable straws and cutlery.
Use our own toiletries and carry them in reusable containers.
Support eco-friendly establishments.
Pick up trash wherever and whenever we can.
Help us make a significant impact on the environment by purchasing one of our travel rings for Indonesia that you can keep as a collection with all the other countries you've visited. Not only will you be contributing to a great cause but you'll also be able to carry your travel memories with you wherever you go.
If you're interested in learning more about responsible travel practices in other countries, check out our blog for information on Laos and the Philippines!