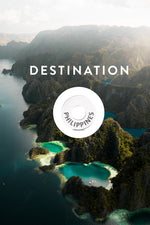 Destination: PHILIPPINES
"The Philippines is defined by its emerald rice fields, teeming megacities, graffiti-splashed jeepneys, smoldering volcanoes, bug-eyed tarsiers, fuzzy water buffalo and smiling, happy-go-lucky people." 
- From our friends at Lonely Planet
A great video outlining a few types of 2-week itineraries through the Philippines, along with all the things to see and do along the way.  
Leave a comment below and share any of your travel experiences in Philippines...can't misses, helpful tips, how to get around etc.