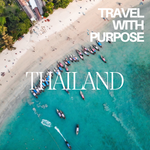 A Guide to Responsible Travel in THAILAND

The mysterious black house of Baan Dam near Chang Rai, Thailand. 
Thailand isn't known as the 'Land of Smiles' for nothing. It's a place where turquoise waters, ancient temples, and vibrant street markets with friendly locals await. Every step you take in this awe-inspiring country will have you smiling from ear to ear. 
This country is a dream destination for many travellers seeking adventure, cultural immersion, and breathtaking scenery. However, with the immense rise in tourism post-pandemic, it has become increasingly important to traverse these landscapes with a responsible traveller mindset. 
As travellers, we hold the power to make a positive impact on the destinations we visit. For all of us here at Traveller Collective, we believe in embracing sustainable practices and respecting local cultures and environments wherever we go. Together, we have the ability to preserve the natural wonders and cultural heritage that make Thailand so enchanting. 
In this guide, we'll take you on an intriguing journey throughout Thailand that goes beyond the beaten path. A path where, as responsible travellers, we can immerse ourselves in the rich tapestry of Thai culture, contribute to conservation efforts, and support local initiatives. Enjoy!
Northern Thailand: Chang Mai & Chang Rai
The temple complex of Wat Chedi Luang in the Old City of Chang Mai.
Chang Mai and Chang Rai are arguably two of the best gems in Northern Thailand. These two cities have some of the best sights for adventurous souls. With a plethora of temples to explore around virtually every corner, the chances to experience ancient Thai culture here are almost limitless. 
As with any temple in Asia, you'll want to make sure you're following along with local customs and traditions. This means covering your shoulders and knees and removing your shoes before you enter temples as a sign of respect. 
While you're at any of the temples in Thailand, take a moment outside of your regular sightseeing to strike up a conversation with a local. They are always more than happy to share stories and insights that will deepen your appreciation for these sacred places. 
Most of the time you'll see many shops just outside or very close to the temples. These are great places to pick up locally crafted souvenirs that 9 times out of 10 will help benefit the upkeep of the temple in some way. They're also great places to strike up conversations with locals. 
Another great way to support local artisans in the area is by checking out the gigantic Sunday Night Market in Chang Mai or the daily night market in Chang Rai. Both markets are filled to the brim with delicious food, unique souvenirs, and friendly locals to chat with. You really can't go wrong. 
If you're up for some super cool volunteer opportunities, Northern Thailand definitely won't disappoint. From helping out at an elephant sanctuary for a week to teaching novice monks English, there are many incredible opportunities to give back in Northern Thailand and beyond!
Bangkok
A bustling street in Bangkok filled with people, street food vendors, motorbikes, and cars
From vibrant street markets hidden in alleyways to ancient temples and bustling nightlife, Bangkok truly has it all. This capital city is a melting pot of culture, flavours, and experiences that will have you wishing you could stay forever. Honestly. 
Whether you're a foodie looking to indulge in a quirky street food scene or a history buff eager to explore ornate palaces, there's something for everyone here. When it comes to responsible travel in Bangkok, there are plenty of ways to make a positive impact on the local communities.
Start off your adventures here by supporting social enterprises and fair-trade shops that empower marginalized groups like the Bangkok Art and Culture Centre. They do a great job of promoting local artists and craftsmen. You can also check out the Chatuchak Weekend Market for unique handicrafts also made by local artisans. 
Next, consider catching a show at the Bangkok Community Theatre. It's an award-winning initiative from the PATA Foundation that uses art and theatre as a powerful tool to empower underprivileged youth throughout the city. Here you'll have the best of both worlds by supporting a great cause and witnessing awesome talent.
And finally, spend some time contributing to the well-being of an underserved community in Bangkok by taking a tour of the Klong Toey slum area. A responsible tour operator, like Courageous Kitchen, will take you through the area as you learn about the community's challenges and support their local initiatives by eating lots of delicious street food. 
Southern Thailand: Koh Lanta, Phuket, & Beyond
Boats awaiting their passengers to go island hopping in Southern Thailand.
Southern Thailand is a breathtaking region of pristine beaches, lush rainforests, and a vibrant cultural heritage. As responsible travellers, we play a key part in preserving this natural paradise for generations. 
Koh Lanta is an enchanting area in the Andaman Sea which is the perfect launching off point for responsible travellers. Home to diverse marine life and coral reefs, this destination offers eco-friendly snrokeling and diving tours galore! 
By choosing reputable operators committed to sustainable practices, we can explore the underwater wonders of Koh Lanta and beyond while ensuring the preservation of its delicate eco system. 
You could even take your stay in Southern Thailand one step further by supporting local businesses and staying at eco-resorts that help contribute to the ecological and economic wellbeing of the area. 
For an immersive eco-adventure, venture into Khao Sok National Park, a true gem of Southern Thailand. Spanning through ancient rainforests, limestone cliffs, and pristine emerald lakes, this park is a true sanctuary for wildlife and humans alike. 
In the heart of Southern Thailand, lies Phuket – a remarkable destination that offers responsible tourism opportunities for all travellers. Here you can opt for community-based tours that introduce visitors to the rich cultural heritage of Phuket's local communities.
Here you'll be able to engage in traditional craftsmanship workshops, support local artisans and savor authentic Thai cuisine at family-run eateries. By investing in the local economy and promoting community and cultural preservation we become advocates for responsible travel. 
Beyond these initiatives there are countless chances to participate in beach cleanups and other simple clean-up initiatives organized by local NGOs and dive centers all over Southern Thailand. By dedicating our time and efforts to preserving these shores, we can protect marine life and raise awareness about the impact of pollution in our oceans.  
Southern Thailand beckons us with its unparalelled beauty and cultural treasures. As we explore its wonders, let us remember our role as responsible travellers and actively participate in:
Conservation efforts to protect the environment

Supporting local communities

Preservation of the region's unique heritage
Together we can ensure that Southern Thailand remains a haven of natural splendor for eternity. 
Sustaining Magnificence for the Wanderer's Soul
Embarking on a journey to Thailand isn't just about exploring its breathtaking landscapes and immersing in its vibrant culture; it's also about embracing responsible travel practices while you're there. 
As wanderers, we have the power to leave a positive impact on the places we visit, and Thailand is no exception. By adopting the principles of responsible travel, we can become conscious custodians of this magical land, and preserve its treasures for future generations to cherish.
At Traveller Collective, we curate meaningful keepsakes that promote sustainable travel practices. Our company's mission aims to:
Reducing plastic waste

Cleaning up our oceans

Choosing eco-conscious solutions

Participating in conservation efforts
Together, lets embark on this expedition where every footstep leads us toward a more sustainable and respectful relationship with this land of smiles. 
If you're interested in learning more about responsible travel practices in other countries, check out our blog for information on Laos and the Philippines!