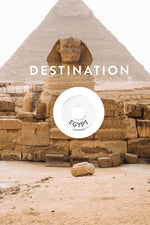 Destination: EGYPT
"The mighty Nile and magnificent monuments entice many to Egypt while the beguiling desert and lush delta wow visitors. Add in the country's long and lingering past and culture full of stories, it is a travelers dream." 
- From our friends at Lonely Planet
* as of September 12th, 2022 
ENTRY:
All travel restrictions lifted.  
Flying The Nest eating their way through the streets of Cairo! So much amazing food that we've never seen or heard of, but look amazing :)
Leave a comment below and share any of your travel experiences in Egypt...can't misses, helpful tips, how to get around etc.