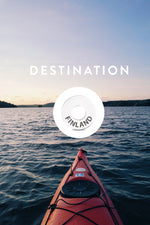 Destination: FINLAND
"Finland's fusion of wild beauty, contemporary design and culinary excellence is a beguiling mix. Throw in winter magic and irresistible summers, and you've one cool country." 
- From our friends at Lonely Planet
Tide Knot Travellers vlogging their way through Helsinki and sharing some of the top sights to visit.     
Leave a comment below and share any of your travel experiences in Finland...can't misses, helpful tips, how to get around etc.