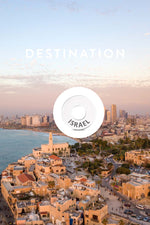 Destination: ISRAEL
"Few places on earth stir up passion the way that Israel does: the breathtaking beauty of its hills and valleys, the eerie stillness of the Dead Sea, the multi-coloured canyon of Makhtesh Ramon, and the ancient walls and pathways of Nazareth and Jerusalem. The call of the muezzin and the quiet prayers of Orthodox Jews at the Western Wall reflect how the religious devotion of the Muslims, Christians and Jews who live here runs through every facet of life." 
- From our friends at Lonely Planet
A well-detailed travel guide for Israel...everything from transportation and costs, to must-see's and general tips.
Leave a comment below and share any of your travel experiences in Israel...can't misses, helpful tips, how to get around etc.