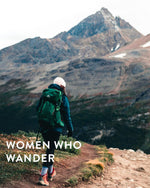 Women Who Wander
I've always been a keen walker, often opting to stomp my way around places I visit or live, rather than driving or taking public transport. When I moved to British Columbia, I became more fascinated with hiking and have seen some beautiful places as a result!
Women Who Wander are a group of women in BC with a clear mission statement: 'To encourage and increase female involvement in the outdoor world by empowering and providing women with the knowledge, opportunities, and experiences in the outdoors.'
They run loads of fun events and challenges for their members, encouraging them to get into the outdoors. Ranging from backpacking basics to guided hikes in the Kootenays. The past year has been challenging; many have found respite in venturing into their local area and enjoying being outside. This community aims to provide a space for women of any ability to join and wander their locality with likeminded individuals. And, of course, all local COVID guidelines are followed.
You can check out their blog here!