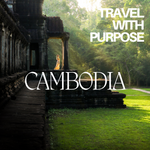 A Guide to Responsible Travel in CAMBODIA

The ancient Angkor Wat Temple at sunrise on the outskirts of Siem Reap, Cambodia. 
The vibrant country of Cambodia is a destination that offers responsible travellers much more than what initially meets the eye. This enchanting country is rich in history and natural beauty and stands as a shining example for responsible tourism. 
From its majestic and ancient temples to its lush jungles and captivating cultural heritage, Cambodia is an incredibly inviting country. Here, you'll embark on a journey that will positively impact both you and the local communities you encounter along the way. 
For us at Traveller Collective, we are delighted to be able to immerse ourselves in authentic experiences that celebrate sustainability. We do this out of respect for local traditions and the preservation of these remarkable countries we have the privilege of visiting. 
We believe in the power of travelling with purpose by making conscious choices along the way. That's why we've crafted this article to promote responsible travel in Cambodia. Let this guide inspire you to embark on a transformative journey through this astonishing country. 
Phnom Penh: Where History &
Perseverance Collide
 A bustling morning street market in Phnom Penh.
Phnom Penh, the bustling capital of Cambodia, is a place where rich history and modern vibrancy blend together seamlessly. Nestled up against the banks of the Mekong River, this city offers a captivating mix of temples, bustling markets, and delicious street food. It's a city that invites you to delve into its complex past while embracing its dynamic present. 
A visit to Phnom Penh isn't complete without gaining an understanding of Cambodia's dark past during the Khmer Rouge regime. To do this, you'll need to visit the Tuol Sleng Genocide Museum and the Cheung Ek Killing Fields. These sites offer a gripping understanding of Cambodia's past. They will also leave you with a deeper understanding of the country's resilience and determination to move forward together. 
Engaging in responsible tourism in Cambodia means engaging in the country's past to understand its present. By paying respects to the victims of the Khmer Rouge regime, you honour those who have suffered and ensure their stories are not forgotten.
While you're in Phnom Penh, you might also consider getting involved in the Daughters of Cambodia initiative. This amazing organization is all about empowering women who have survived human trafficking and other forms of exploitation. Here, you'll have a chance to contribute to their:
Rehabilitation programs

Vocational training

Job opportunities

Fair-trade production
A visit to the Daughters of Cambodia is a chance to support these incredible women and help manifest them into a brighter future. It's genuinely a great opportunity to understand the balance between Cambodia's past and how the humans in this beautiful country persist into the future. 
Siem Reap: Where Ancient Wonders & Empowering Opportunities Coexist 
The Smiling Buddha statue of Bayon Temple.
Siem Reap is a destination unlike any other. It's a time machine that transports you to ancient times with mesmerizing architecture and cultural heritage. 
Angkor Wat is undoubtedly the main attraction in Siem Reap. Its the place everyone wants to explore. Whether you choose to tour this site by motorbike, bicycle, or tuk-tuk it's important to consider where your transportation money is going. 
Our best advice? Hire a local tuk-tuk driver in Siem Reap to take you to get your day pass and drive you around the different temples. This is the best way to make sure your Cambodian Riels are spent wisely. 
Beyond Angkor Wat, however, there are some really cool opportunities to dive into community development and tourism. 
The first one on our list would be the floating villages on Tonle Sap Lake. Featured in Sue Perkins' 2014 documentary on The Mekong River these villages are a genuine glimpse into community development and environmental conservation along the Mekong. 
While you're on your tour, be sure to bring a big garbage bag with you and pick up any trash you see while you're floating around. You wouldn't believe how much of an impact a small amount of floating garbage makes on this village. Picking it up as you float along on your tour is seriously the easiest way to help this community out. 
The next one on our list is the New Hope NGO engaging in some really cool initiatives for community development in the rural areas surrounding Siem Reap and within the city. If you've got some time, check out their various volunteer opportunities. 
Or, if you don't have much time but still want to support them in a small way, go eat at their restaurant! You would not believe how delicious their food is. And it tastes even better when you know it's helping to educate underprivileged workers in the community. 
Beyond these opportunities, you'll find many more waiting to be discovered by just walking down the street in Siem Reap. This little big town is filled to the brim with chances to give back around every corner.
Battambang: Where Local Arts and Community Initiatives Prosper
A local Cambodian artist painting the tranquil Angkor Wat landscape.
Nestled in Cambodia's northwest, Battambang is a city known for its rich artistic heritage and community-driven initiatives. Responsible travellers can engage with the local arts scene and participate in projects that uplift the community in many different ways.
This vibrant city features traditional dance performances, local handmade crafts, and contemporary art galleries peppered throughout. This is the place you'll want to visit for some one-of-a-kind souvenirs where your purchase will help out the local community. 
Battambang also offers various volunteering opportunities that enable travellers to give back. 
Engaging in projects focused on education, environmental conservation, or community development fosters a sense of fulfilment and creates a positive impact. 
One of our favourite NGOs in Battambang is Ptea Teuk Dong (PTD) which directly translates to 'house, water, coconut' and was named for the healing properties of coconut water which is abundant all over Cambodia. 
We love this NGO so much because it has a multitude of different ways you can get involved. Anything from teaching English to admin or agricultural work, there's something to suit everyone's skillset here.  
Or if you're in a crunch for time and can't commit to more than a couple of hours, one of the easiest ways to give to this NGO is through their community wishlist. 
This list will give you ideas for what you can purchase from home and bring, or what you can purchase from local vendors. Either way, it's easy to give back this way and just takes a quick visit to their center. 
A Sustainable Legacy for Cambodia's Future
In Cambodia, responsible travel is more than just a trend; it's a way of life that's deeply ingrained in the country's cultural fabric. By engaging in responsible travel practices, we can contribute positively to the preservation of Cambodia's heritage. 
In a world where travel holds the power to transform both the traveller and the destination, how you travel has become more important than ever before. Responsible travel in Cambodia then emerges a harmonious symphony of cultural immersion and environmental stewardship. 
As you embark on your journey to Cambodia, remember that responsible travel isn't just a trend, but a mindset. It's a commitment to leave a positive footprint wherever you go. 
Whether you're exploring the ancient temples of Siem Reap, diving into the turquoise waters of Koh Rong, or engaging with local artisans in Battambang, every conscious decision you make while travelling can make a world of difference. 
For us at Traveller Collective, we aim to be ambassadors of positive change by leaving behind a sustainable legacy. We do this through our mission to eliminate plastic waste from the tourism industry. 
As travellers, we hold the power to make a significant impact on reducing single-use plastics and nurturing a more sustainable world.
While you're roaming around, consider embracing these eco-conscious practices:


Use a refillable water bottle.

Carry a reusable shopping bag.

Say no to disposable straws and cutlery.

Use your own toiletries and carry them in reusable containers.

Support eco-friendly establishments.
In addition, the simple gesture of picking up trash in a place you're visiting goes a long way in respecting the local community and ensures a more enriching travel experience for everyone.
Together, we can become a community of conscious travellers who embrace the essence of responsible travel. We'll create a sustainable impact that truly makes a difference for the people and places we encounter. 
If you're interested in learning more about responsible travel practices in other countries, check out our blog for information on Laos and the Philippines!