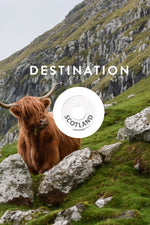 Destination: SCOTLAND
"Scotland has many treasures crammed into its compact territory. Big skies, ancient architecture, spectacular wildlife, superb seafood and hospitable, down-to-earth people." 
- From our friends at Lonely Planet
Follow along with Vanhalla Adventures on a 10-Day Trip through Scotland.
Leave a comment below and share any of your travel experiences in Scotland...can't misses, helpful tips, how to get around etc.