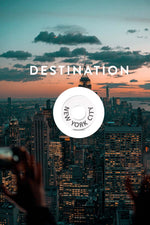 Destination : NEW YORK CITY
"Epicenter of the arts. Architectural darling. Dining and shopping capital. Trendsetter. New York City wears many crowns, and spreads an irresistible feast for all." 
- From our friends at Lonely Planet
NYC...the birthplace of pizza in the States! A great video on the history pizza in the city, while on the hunt for the perfect slice. 
Leave a comment below and share any of your travel experiences in New York...can't misses, helpful tips, how to get around etc.