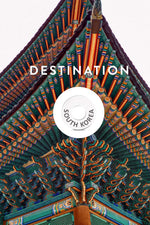 Destination: SOUTH KOREA
"Split by a hair-trigger border, the Korean Peninsula offers the traveler a dazzling range of experiences, beautiful landscapes and 5000 years of culture and history." 
- From our friends at Lonely Planet
* as of August 15th, 2022 
ENTRY:
Negative COVID-19 test within 48 hours of departure. 
Mandatory PCR test upon arrival. 
Should quarantine until test results are received. 
WHILE THERE:
Mask in indoor public places and all public transport. 
Let your tastebuds run wild on a food tour of traditional Korean street food at the famous Gwangjang Market.
Leave a comment below and share any of your travel experiences in South Korea...can't misses, helpful tips, how to get around etc.