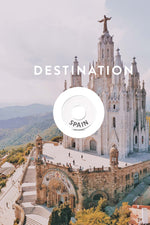 Destination: SPAIN
"Passionate, sophisticated and devoted to living the good life, Spain is both a stereotype come to life and a country more diverse than you ever imagined." 
- From our friends at Lonely Planet
* as of July 19th, 2022 
ENTRY:
Proof of Vaccination or negative test within 72 hours of departure. 
A guide to everything Seville shared by Crosby Grace Travels.
Leave a comment below and share any of your travel experiences in Seville...can't misses, helpful tips, how to get around etc.